The Maytown Historical Society is happy to announce the return of the popular Garden Tour on Saturday, June 11, 2016, from 9:00 AM until 4:00 PM.
A "bouquet" of 8 or more new and formerly-featured gardens will be open to the public both in "downtown" Maytown and the surrounding countryside. The town's museum will display a new exhibit on the legacy of Maytown's Frank family. MHS stalwarts, Carol Eddins and Susan Corridon will sell potted plants for a bargain price of $4.00 each at their 9 South River Street Victorian home. At 11:30, Wes Gerber from River Road produce will present a seminar on vegetable and flower container gardens at the museum at 4 West High Street. Food will be available for sale on the museum grounds.
Tickets for the tour may be purchased in advance for $10.00, by calling Society President and Event Chairman, Pat Vogel, at 426-2360, or may be purchased on June 11, for $12.00, at the museum.
Profits benefit the Maytown Historical Society and its mission to research, preserve, and broadcast the story of our town and township's interesting and distinguished past.
250th Anniversary Commerative DVD
A commerative DVD of Maytown's 250th anniversary celebration has been produced by the Maytown Historical Society. Using several hundred still photos and video recordings from local residents, every aspect of the 4 day celebration has been recorded and transformed into this commerative DVD.
If you were here in Maytown and enjoyed the celebration, this is a great way to preserve those wonderful memories, and a part of Maytown history. With a price of $21.20 each (which includes PA sales tax), they make a great souvnier for yourself or pick several up for gifts. The DVD's are available for sale at the Maytown-East Donegal Museum.
---
In 1985, a group of citizens banded together to form the Maytown Historical Society. The immediate motivation for establishing the society was the celebration of the 225th anniversary of the town's founding.
With that accomplished in fine style, the society began a more routine, but ultimately more important life of collecting local artifacts, amassing, sharing, and recording historical data.
The society hosts a wide variety of events and fund raisers including the annual "Mayfest" celebrations, as well as monthly programs to raise the historical consciousness of our local population.
In 2002 the Society took a bold and significant step: we saw the realization of a 17-year dream, by purchasing a site for our museum. This log structure may be the oldest structure in the village, likely dating from 1760.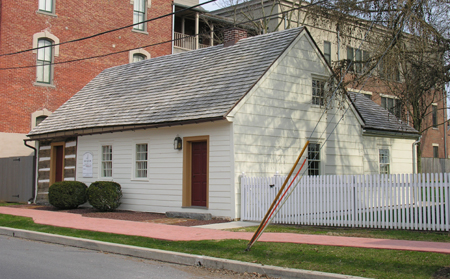 Maytown/East Donegal Museum

The purpose of the Maytown Historical Society is to develop and maintain a continuing, written history of Maytown and East Donegal Township, Lancaster County, Pennsylvania.
To seek, acquire/loan and preserve all documents, artifacts and other mementos which exemplify lifestyles and or events of historical significance.
To research, classify and document pertinent information on buildings and to promote the preservation, restoration and registry of such buildings.
To determine the role of Maytown and East Donegal Township in world, national, regional and adjoining area history.
To present programs and events which will be informational, educational and interesting to the members and general public.
To advocate for government policies, ordinances and laws that preserve our historic buildings, farmland and community character.

Since the Maytown Historical Society is a non-profit organization, donations of artifacts may be deducted from income taxes at their appraised value---just as cash donations to the Society may be deducted. If you have questions about this, or are contemplating making a donation, please feel free to contact us.
Old family photos, histories, diaries, deeds, maps and other documents will be accepted, along with artifacts and materials from citizens, businesses, schools, churches, political parties and other organizations---insofar as the items relate to the Maytown/East Donegal Township Community.