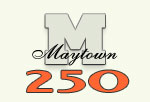 Society Info
---
MHS Museum
---
MHS Events
---
---
www.maytownhistory.org
Maytown Winter Festival 2013
Food, Craft, Antique
VENDORS WANTED
For our Third Annual "Maytown Winter Festival 2013" an outdoor event to be held Saturday December 14, 2013. Our Vendor Application Form can be downloaded below or for more info please call Rene at 717-604-1801.
Vendor Application
Application page 1 | Application page 2
---
SIMON CAMERON EXHIBIT
OPENING MAY 5, 2013
Simon Cameron, Maytown's most famous native son, by far, will be honored with this year's Maytown - East Donegal Museum's exhibit. Cameron (1799-1889) was born in Maytown and died just outside of town at his mansion at Donegal Springs (today's Cameron Inn Estate), and in-between, he became a nationally-known newspaper man, banker, canal builder, railroad builder and tycoon, iron ore developer, US Senator, Secretary of War, Ambassador to Russia, citizen advisor to President Lincoln, political boss of Pennsylvania, agronomist, philanthropist, and father of 10 - one of whom succeeded him in the US Senate. He loved Maytown and spent lots of time in our town during the summers of his retirement years; he also gifted the Lutheran and Reformed churches with parsonages, beautified the town square with a fence, pump, and tulip poplar, and helped out many a poor Maytonian in need of winter coal.
Cameron's 200th birthday was celebrated by the MHS at the Mayfest in 1999, before we had our museum, and he has been featured in a general exhibit on town celebrities, but this is the first exhibit that features him alone.
Curator Bob Lescallette, aided by archivist ,Jack Frank, have put together a collection of photographs, books, and other Cameron things owned by the society and others. The MHS, for example, owns Simon's copy of the US Constitution, while the Lutheran Church has loaned us their paintings of Sen. and Mrs. Cameron, and Bob Lescallette has loaned the exhibit two volumes that once were in Cameron's extensive personal library, both of which are signed by the voracious reader. We have also secured loaned objects from the Dauphin County Historical Society, which meets in Cameron's Harrisburg mansion, and from the Lancaster County Historical Society (LancasterHistory.org). On display will be Cameron's magnificent inlaid writing desk, some beautiful family china cups, a bank note from the Cameron bank in Middletown, and engraving plate to produce business cards which Ambassador Cameron used on his mission to Czarist Russia, some fine pressed glass goblets, and perhaps some other treasures, never seen locally before!
The exhibit will be open to the public on most Sunday afternoons, from 2:00 PM until 4:00 PM , starting on May 5th and ending after the Winter Festival in early December of 2013. Questions may be addressed to Curator Lescallette at 426-1643 or cartouche1948@embarqmail.com.
---
WRAP-UP OF WINTER FESTIVAL 2012
The Maytown Historical Society's 2nd annual "Winter Festival" is now history, and, by all accounts, it was another grand success! Thanks to all the vendors and volunteers who helped make it so….as well as our many patrons! A threatening day, weather-wise, turned out to be fine, after-all, and the warmer than usual mid-December temperatures didn't hurt!
The "Sister's Bake Shoppe" once again did a "land-office" business and, despite more than doubling their inventory of goodies, sold out prior to their scheduled closing at 2PM. Similarly, the "Royal George Inn" welcomed over 100 patrons for a fine sit-down luncheon in a colonial atmosphered "tavern".
Three of the town's churches were decorated for the season, and all had prepared interesting programs of varied natures, which were well-patronized by the public. The Church of God's nursery school provided wonderful children's presentations, while the Reformed Church sponsored a lively sing-a-long, and the Lutheran Church conducted tours of the sanctuary, showed off a delightful holiday train platform, and sold fascinating third-world items provided through Lutheran World Relief.
Meanwhile, an old-time trolley ferried passengers on 4 trips around the town, as they were regaled with "tons" of town history by a colonial-costumed guide. Along the way, Santa Claus was spotted, moving toward the old "Whiskey Distillery" where the jolly old elf set up shop hearing children's wish lists, and his side-kick, the German "Belsnickel" was also on the scene---with a somewhat less jolly demeanor!
Crowds mulled around West High Street, the square, and South River Street, sampling a vast array of foods from vendors, purchasing gifts, and visiting the town museum for its gift shop and historical display.
The Maytown Historical Society would again like to thank all who helped make this year's fund-raiser a success, and we look forward to more such events in the future.
Please come back in 2013 and help us continue this wonderful venture!
---


Second Annual
Winter Festival



Saturday December 8, 2012
Last year's inaugural "Maytown Winter Festival" was such a success---with such a large crowd and so many glowing comments heard---that the Maytown Historical Society, the event sponsor, decided to do it again! This year's event will take place on Saturday, December 8, 2012, from 10:00 AM until 4:00 PM.
As was the case last year, Maytown's town square and old High Street will be closed to vehicular traffic, and it will become a marketplace featuring all types of delectable wares for eating and drinking, as well as delightful gift items for wearing and enjoying.
One may, for example, purchase hand-crafted Christmas decorations, redware pottery, holiday yard decorations, gloves, socks, scarves, hats, bags, sport plaques, Santa figures, soy candles, soaps and lotions, ceramics, prints, and a host of both hand-crafted and commercially made products.
Meanwhile, numerous food vendors are always on hand to warm your tummies and tickle your taste buds with such tempting offerings as French fries, healthy chicken, pulled-pork sandwiches, sausage, chili, hot dogs, crab cakes, tacos, tamales, soft pretzels, ham and cheese sandwiches, hamburgers, soup, beef stew, corn bread, and cookies. One can also follow one's nose down South River Street to the popular "Sisters' Bake Shoppe" and consume apple dumplings, cookies, and other baked goods inside a lovely (and warm!), scent-filled Victorian house, while appropriately costumed shopkeepers wait on you!
For those in search of more substantial fare, in a sit-down milieu, one need only proceed further down the street to a former tobacco baron's mansion, at the street's intersection with Elizabeth Street, and there enter into our colonial past, with costumed waiters, waitresses, and cooks, while Maytown's Civil War era "Capt. Henry Haines", in the person of re-enactor, Glenn Bachert, guides you to your table. Once seated, you have a choice of two soups---chicken corn or potato---ham or chicken salad sandwiches, and a vast array of desserts and beverages---all quite reasonably priced. Last year's site of the "Royal George Inn" had to be moved from the Haines stone house on the town square to its more familiar setting in year's past, the Herzog-Risser mansion.
As was the case last year, MHS historian, Pastor Bob Lescallette, will don his colonial attire and lead guided tours of the town aboard a wonderful trolley, however, the route has been slightly altered to include more of South River Street and none of West High Street.
When not shopping or eating or riding the trolley, one can listen to a variety of musical offerings on the decorated square, visit Santa Claus in the Old Whiskey Distillery building, or tour one or more of the three town churches that will be open. The Church of God on West Elizabeth Street will again feature children singing church and secular carols of the season and presenting a nativity playlet; the Reformed Church on East Elizabeth Street will offer musical sing-alongs and church tours; and St. John's Lutheran Church on North Queen Street will offer sanctuary tours with colonial costumed docents and two special attractions in the church's parlor: a display of a Victorian village featuring two HO guage model trains and a Lutheran World Relief "Fair Trade" booth, operated by the parish's Social Ministry Committee, that features a variety of items made in "Third World" countries by craftsman who are paid a fair price for their products. Hand-made items for sale include: jewelry, scarves, gloves, puzzles, wallets, tea pots, mugs, Christmas ornaments, jellies, and cocoa.
At the Maytown-East Donegal Museum on West High Street, one may view this year's exhibit on nineteenth century coverlets made in Maytown by the Gebhart family and purchase a variety of quality souvenirs and gifts from the museum gift shop---including a limited edition redware plate, other pottery, Byers Choice carolers, Christmas ornaments, a woven goods from York County.
Sponsors of this year's event include Longwood Manor, East Donegal Township, Union Community Bank, and J.B. Hostetter & Sons, Inc. Profits benefit the work of the Maytown Historical Society.
So please join us, as we travel back in time to a magical place called "Maytown, USA", amidst the rolling hills of Donegal, and get caught up in the Yule-tide spirit!
Hope to see you there!
---
Food, Craft, Antique
VENDORS WANTED
For our Second Annual Maytown Winter Festival to be held Saturday December 8, 2012. Our Vendor Application Form can be downloaded below or for more info please call Rene at 360-560-5802 (Weekends and after 5:00 PM weekdays)
Vendor Application
Application page 1 | Application page 2
250th Anniversary Commerative DVD
A commerative DVD of Maytown's 250th anniversary celebration has been produced by the Maytown Historical Society. Using several hundred still photos and video recordings from local residents, every aspect of the 4 day celebration has been recorded and transformed into this commerative DVD.
If you were here in Maytown and enjoyed the celebration, this is a great way to preserve those wonderful memories, and a part of Maytown history. With a price of $21.20 each (which includes PA sales tax), they make a great souvnier for yourself or pick several up for gifts. The DVD's are available for sale at the Maytown-East Donegal Museum.
In 1985, a group of citizens banded together to form the Maytown Historical Society. The immediate motivation for establishing the society was the celebration of the 225th anniversary of the town's founding.
With that accomplished in fine style, the society began a more routine, but ultimately more important life of collecting local artifacts, amassing, sharing, and recording historical data.
The society hosts a wide variety of events and fund raisers including the annual "Mayfest" celebrations, as well as monthly programs to raise the historical consciousness of our local population.
In 2002 the Society took a bold and significant step: we saw the realization of a 17-year dream, by purchasing a site for our museum. This log structure may be the oldest structure in the village, likely dating from 1760.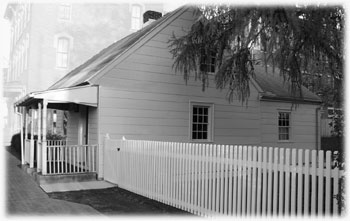 Maytown/East Donegal Museum

The purpose of the Maytown Historical Society is to develop and maintain a continuing, written history of Maytown and East Donegal Township, Lancaster County, Pennsylvania.
To seek, acquire/loan and preserve all documents, artifacts and other mementos which exemplify lifestyles and or events of historical significance.
To research, classify and document pertinent information on buildings and to promote the preservation, restoration and registry of such buildings.
To determine the role of Maytown and East Donegal Township in world, national, regional and adjoining area history.
To present programs and events which will be informational, educational and interesting to the members and general public.
To advocate for government policies, ordinances and laws that preserve our historic buildings, farmland and community character.

Since the Maytown Historical Society is a non-profit organization, donations of artifacts may be deducted from income taxes at their appraised value---just as cash donations to the Society may be deducted. If you have questions about this, or are contemplating making a donation to us, please feel free to contact me, the MHS Archivist (Jack H. Frank) at 717-426-3308
Old family photos, histories, diaries, deeds, maps and other documents will be accepted, along with artifacts and materials from citizens, businesses, schools, churches, political parties and other organizations---insofar as the items relate to the Maytown/East Donegal Township Community.












PO Box 293
Maytown, PA
17550-0293
717-426-1526


Links