Society Info
---
MHS Museum
---
MHS Events
---
---
www.maytownhistory.org
---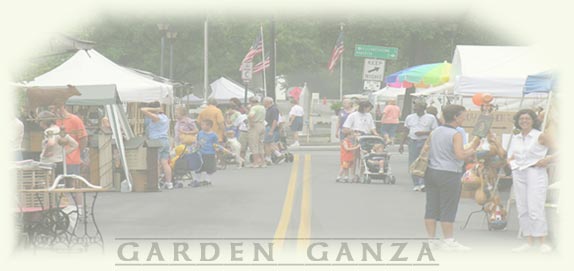 "Garden Ganza, the popular tour featuring a number of Maytown's exquisite gardens, is held annually on the third Saturday in July. In addition to the garden tours, the event includes numerous vendors offering garden-related merchandise and crafts for sale in Maytown's Historic Center Square.
Food is available for purchase throughout the day, beginning with hearty breakfast sandwiches, lunch offerings like hotdogs and hamburgers, and homemade strawberry shortcake with ice cream for dessert or an indulgent afternoon snack."
VENDORS WANTED
(Maytown, PA) - Vendors are wanted in Historic Maytown, PA! The Maytown Historical Society is planning a unique outdoor garden event. Our 2008 GARDEN GANZA will be held on Saturday JULY 19th, 2008 - from 9:00am until 3:00pm in Maytown's beautiful Center Square. We are located between Marietta and Elizabethtown on Route 743. Artists, antique dealers, and garden retailers featuring the outdoor theme as well as food vendors are wanted for this free community event.
2008 Garden Ganza Vendor Application page 1
2008 Garden Ganza Vendor Application page 2
Check back closer to this year's event date (late May, early June) for more details...












PO Box 293
Maytown, PA
17550-0293
717-426-1526


Links